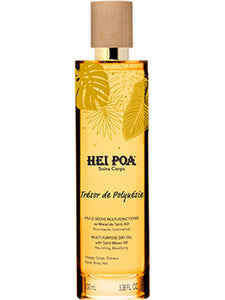 Huile De MonoÏ Dry Oil
This Huile De MonoÏ Dry Oil from Hei Poa is a variation on the solidifying oils as this one remains liquid even when its cold. This oil nourishes the skin deeply and has the delicate essence of paradisiacal flowers. This is your perfect every day oil.
Composition
Monoï de tahiti 98%
Free of dyes and preservatives.
Hei Poa Oils are Vegan and animal proof free.
Content
100 ml